Course Catalog 2019-2020
[ARCHIVED CATALOG]
Course Catalog 2019-2020
---
Wheaton was founded in 1834 as a female seminary and chartered as a four-year liberal arts college in 1912. The college became coeducational in 1988, and its Phi Beta Kappa chapter was established in 1932. On July 15, 2014, Dennis M. Hanno became Wheaton's eighth president. 
Throughout Wheaton College's history, our reputation for academic excellence is a direct result of pioneering leadership. Today, we share with past generations the rich academic tradition of the liberal arts and sciences. At the same time, we benefit from a host of curricular initiatives begun during the past two decades—new programs that help us explore ideas and concepts across academic disciplines, link academic study with learning outside the classroom, appreciate diversity in all its forms, and see ourselves as active members of a global community.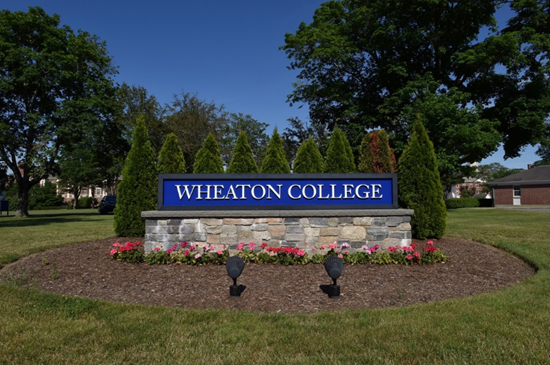 Wheaton College Mission Statement
Wheaton College provides a transformative liberal arts education for intellectually curious students in a collaborative, academically vibrant residential community that values a diverse world.
Statement of Accreditation
Wheaton College is accredited by the New England Commission of Higher Education (NECHE), which renewed the college's accreditation on July 1, 2010. (The commission's letter of accreditation is available for download as a pdf document.)
The college's accreditation follows a detailed review of the institution conducted by NECHE's visiting team, which conducted its examination in November 2009. The visiting team's final report (pdf) recommended reaccreditation.
Colleges earn accreditation through a detailed review of the institution, in accordance with the eleven NECHE accreditation standards set forth by NECHE's Commission on Institutions of Higher Education. The standards require a comprehensive examination that encompasses academic programs, the faculty, information technology, research, and Wheaton's planning and evaluation.
Notice of Nondiscrimination
Wheaton College is committed to the principles of Equal Opportunity as defined under federal and state law. It does not discriminate on the basis of race, color, disability, genetic information, national or ethnic origin, citizenship, age, religion, sex, gender, sexual orientation, gender identity, gender expression, pregnancy, marital status, military or veteran status, membership in the Uniformed Services, or any other legally protected status in its admission policy, programs, or activities, educational policies, scholarship and loan programs, athletic and other College-administered programs, or employment practices and programs.
Disclaimer
The information in the catalog was accurate at the time of publication. The college reserves the right to make changes from time to time affecting its curriculum, fees or other matters as educational and financial considerations require.
---