College Catalog 2023-2024
College Catalog 2023-2024
---
Wheaton was founded in 1834 as a female seminary and chartered as a four-year liberal arts college in 1912. The college became coeducational in 1988, and its Phi Beta Kappa chapter was established in 1932. On January 1, 2022, Michaele Whelan became Wheaton's ninth president.
Throughout Wheaton College's history, our reputation for academic excellence is a direct result of pioneering leadership. Today, we share with past generations the rich academic tradition of the liberal arts and sciences. At the same time, we benefit from a host of curricular initiatives begun during the past three decades—new programs that help us explore ideas and concepts across academic disciplines, link academic study with learning outside the classroom, appreciate diversity in all its forms, and see ourselves as active members of a global community.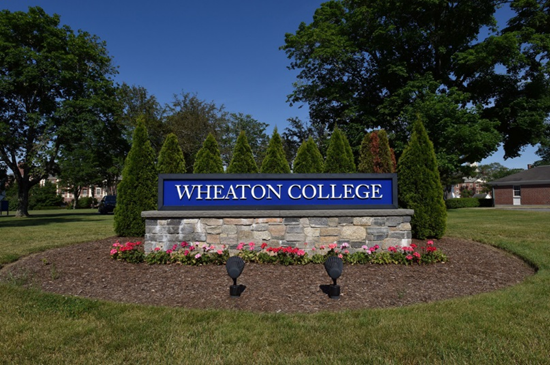 Wheaton College Mission Statement
Wheaton College provides a transformative liberal arts education, combining theory and practice, for intellectually curious students within a collaborative and vibrant extended community and network that values and strives to create an equitable and just world.
Vision Statement
Wheaton educates students for purposeful, abundant lives and evolving careers.
Essential Elements
Creating a student-centered, action-oriented environment with a shared and sustained sense of belonging

Fostering students' skills, habits of mind, and confidence to make meaningful differences in the world

Maintaining high standards of academic excellence, ethical integrity, intellectual freedom

Providing an innovative and flexible liberal arts curriculum embedded in experiential learning to ensure a transformative education

Empowering all faculty and staff to shape a diverse and inclusive community

Engaging alums in mentoring and career design within a lifelong network of support and connection
Statement of Accreditation
Wheaton College is accredited by the New England Commission of Higher Education (formerly the Commission on Institutions of Higher Education of the New England Association of Schools and Colleges, Inc.).
Accreditation of an institution of higher education by the commission indicates that it meets or exceeds criteria for the assessment of institutional quality periodically applied through a peer-review process. An accredited college or university is one which has available the necessary resources to achieve its stated purposes through appropriate educational programs, is substantially doing so, and gives reasonable evidence that it will continue to do so in the foreseeable future. Institutional integrity is also addressed through accreditation.
Accreditation by the commission is not partial but applies to the institution as a whole. As such, it is not a guarantee of every course or program offered or the competence of individual graduates. Rather, it provides reasonable assurance about the quality of opportunities available to students who attend the institution.
The commission renewed Wheaton's accreditation on October 8, 2019. The details of the commission's decision are contained in its official notice of accreditation found at wheatoncollege.edu/academics/accreditation.
Inquiries regarding the accreditation status by the Commission should be directed to the administrative staff of the institution. Individuals may also contact:
New England Commission of Higher Education
3 Burlington Woods Drive, Suite 100
Burlington, MA 01803-4514
(781) 425 7785
Email: info@neche.org
Notice of Nondiscrimination
Wheaton College is committed to the principles of Equal Opportunity as defined under federal and state law. It does not discriminate on the basis of race, color, disability, genetic information, national or ethnic origin, citizenship, age, religion, sex, gender, sexual orientation, gender identity, gender expression, pregnancy, marital status, military or veteran status, membership in the Uniformed Services, or any other legally protected status in its admission policy, programs, or activities, educational policies, scholarship and loan programs, athletic and other College administered programs, or employment practices and programs.
The following office has been designated to handle inquiries regarding the nondiscrimination policy:
Office of Human Resources
26 E. Main Street
Norton, Massachusetts 02766
508-286-8206
Contacting Wheaton
To contact Wheaton College, individuals may write to us at 26 East Main Street, Norton, MA  02766 or call the main number which is 508-286-8200.  
Disclaimer
The information in the catalog is current at the time of publication. The College reserves the right at any time to make changes affecting its curriculum, fees or other matters.
---